COVID19 Test and Certificate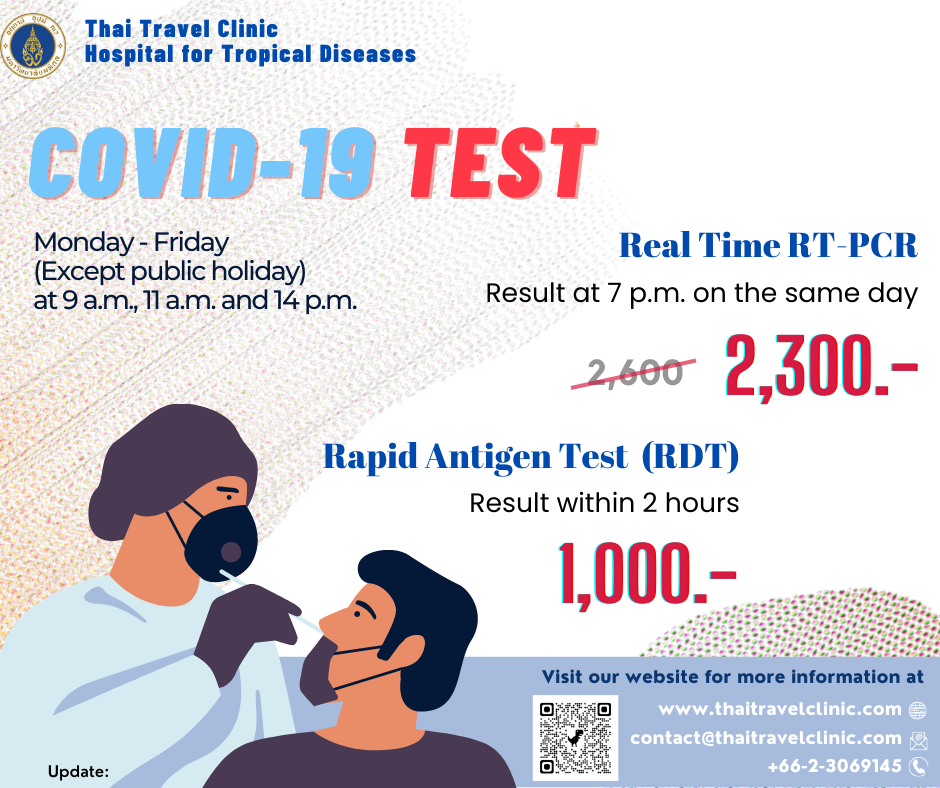 IMPORTANT
If the result is positive for COVID-19, it means that you can not travel as you planned.

If it's positive, you will receive the treatment and be quarantined according to the current regulation and recommendation of Thailand Ministry of Public health.

For safety reason: If you have contacted someone with COVID19 or have any fever or any COVID19 related symptoms, or at risk of COVID-19 infection; you have to visit our fever/ARI clinic. You cannot visit our Travel Clinic.
INSTRUCTION: How to request for COVID-19 test/certificate
1) Carefully read travel regulation/requirement from the destination country and airline to determine which type of test is needed and how many hours prior the flight.
2) Determine which type of certificate that you will need for the trip (based on country and airline regulation)
3) We perform 2 different valid test methods which are
a. the standard PCR-based analysis (realtime RT-PCR)
b. the rapid antigen-based test (RDT)

4) Making an appointment
• If you would like to get tested (either RT-PCR or rapid antigen test), please book an appointment..
• We will perform specimen collection (swab) ONLY at these following time;
Monday – Friday at 9 AM, 11 AM and 2 PM

**

Close on Saturday, Sunday and public holiday

**
• Please arrive at the clinic at least 15 minutes before specimen collecting time to complete the document and see the doctor.
• That means, even you have completed the consultation process at 8.30 AM, you will need to wait until 9 AM for specimen collection.
• If you have any question, you can contact us at This email address is being protected from spambots. You need JavaScript enabled to view it. or via the chat box on this page. Please include your information i.e. flight details and transiting and destination counties in the message. Due to huge number of emails, we cannot guarantee that we will be able to response to all inquires.
5. On appointment day

• Please show your email booking confirmation and confirmed filght ticket to our staffs when requested.
• Please also bring a copy of your passport for accurate data entering.
• When you visit our clinic, you will need to see our nurses and doctors to evaluate you before sample collected. The whole process will take approximately 30 minutes to 1 hour.
6. COVID-19 test and the result
After testing, you will receive 2 documents.




COVID-19 test report

Medical certificate.

Our laboratories are certified and provide the tests that meet the standards for pre-departure testing. The lab report and medical certificate can be used as your travel documents, both domestic and international travelling.

Medical certificate will include all these information; your name, date of birth, nationality, passport number, date and time of sample collection, testing method and test result. It will also state whether you have any COVID-19 related symptoms or not.

The COVID-19 test report and medical certificate will be issued in English (in Thai - per request)
• Real time RT-PCR
o Samples will be collected from throat and nose.
oMedical certificate and original COVID-19 test report will be ready to pick up at 7 p.m on the same day.
o If needed, we can send you the scanned COVID-19 test report through the given email address within the next morning. Please inform our staff. However, we cannot send you the scanned medical certificate
• COVID-19 Rapid Antigen test
o Please note that ONLY some airlines and countries accept COVID-19 rapid antigen test.
o Right now, we use Rapid Antigen test from Abbott which has high perfomance and very reliable. The test is approved by international health authorities. The sensitivity is 91.4% and specificity is 99.8%. You can see detail here in this link.
o Sample will be collected from the nose only.
o The result and medical certificate will be ready within 2 hours after we collect the specimen.
7. The expense
• Real time RT-PCR
o The cost for this test is 2,300 baht (FROM 10th January 2023), all inclusive. You will need to pay on the day you visit us.
• COVID-19 rapid Antigen test
o The cost for this test is 1,000 baht, including the test, doctor fee, hospital fee, and medical certificate. You will need to pay on the day you visit us.
8. Certificate for COVID19-free symptom
• Due to the current situation of COVID-19 in Thailand and a high proportion of mild symptom and asymptomatic cases, we do not issue the certificate stating that you are free of COVID-19 infection. Therefore, you will always need to get tested either with real time RT-PCR or rapid antigen test. Please make an appointment for the test via this link.
9) We cannot guarantee that you will get COVID19 certificate as you requested. The decision to give/not give medical certificate will depend on our doctor's professional judgement. We also cannot guarantee that you will get the certificate ontime and cannot guarantee that our certificate will considered as 'a green light' in all circumstances. We accept no responsibility of any loss, any consequence for this matter.
10) If you're not sure about our service or whether we can serve your need, please feel free to contact us via email/chatbox in this page. In some circumstance, we will offer a teleconsultation with our doctor.
Update 27 February 2023
You will need to pay on the day you visit us.