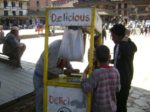 Some travelers might wonder that why we do not set a vaccine-bundle package or any promotion in our clinic. Although it may be a good marketing idea for any clinics, we simply don't do it. Why? Here are some reasons/explanation:
1. We believe that the reasonable pre-travel vaccines for all travelers are not the same even they travel to the same destination. Risk of acquiring infectious diseases are different between person to person. So we need a proper risk-assessment in order to give a sound recommendation.
For example, a businessman who plan to visit Bangkok for only a week come . . . → Read More: Why we don't set any vaccine bundle-package or promotion in our clinic?