Research Project:
Seroprevalence of Dengue, Japanese Encephalitis and Zika and risk factors for infection among long-term expatriates from non-endemic country in Thailand
Background of the research:
Expatriate is a person who living in a foreign country for a certain period of time. Due to the difference in sociocultural, medical and psychological factors; health problems are unavoidable issues while living outside their native country. Moreover, expatriate will express a unique health risk from co-circulating mosquito borne flavivirus such as Japanese encephalitis, dengue and Zika. These diseases will cause morbidity and mortality not only in local population but also expatriate who live in Thailand and Southeast Asian countries.
This study aims to determine the frequency of common flaviviruses (Dengue virus, Japanese encephalitis virus) infection in the expatriate population naïve to these viruses. These viruses are usually transmitted to people by mosquitoes. Majority of individuals who get infected with these viruses do not get sick.
The main objective of this study are to:
• Estimate the frequency of Dengue virus, Japanese Encephalitis virus and Zika virus among expatriates
• Identify risk factors and modifiable risk factors (exposures, behaviors, practices) for Flavivirus infections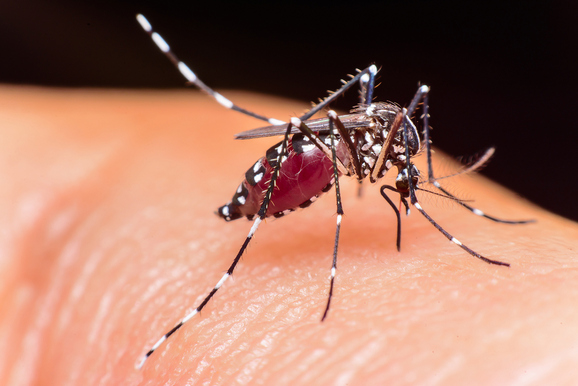 Ades mosquito: A main vector for dengue/JE and Zika virus
Research Collaborators:
Faculty of Tropical Medicine, Mahidol University
Faculty of Medicine, Chiangmai University
University of Minnesota
Armed forced research institute of medical science (AFRIMS)
Eligible participants
Expatriates residing in Thailand or Southeast Asian countries for one year or more cumulatively. In order to minimize historical exposure to other flaviviruses in their home country, an eligible expatriate will be defined as a person born and have nationality in The US, Canada, Europe, Middle Asia, Australia and New Zealand.

Age more than 18-year-old.

Able to read and understand English questionnaire.
Detail and method of the study
Once you agree and sign the informed consent, you will be asked to answer a questionnaire your health and daily life, such as the type of protection measures you use against mosquitoes

.

You will be checked for blood pressure, BMI and blood sugar.

Our nurse will draw approximately 10ml of blood from your arm. Only one single blood drawn
Read full participant information sheet :click here
Contact information
Dr. Amornphat, Travel Clinic, Hospital for Tropical Diseases: Email:

This email address is being protected from spambots. You need JavaScript enabled to view it.

)

0882620420

Dr. Hisham, Travel Clinic, Hospital for Tropical Diseases

)

02354 9145

Ms. Jutarmas, Research nurse, Email:

This email address is being protected from spambots. You need JavaScript enabled to view it.

)

02354 9145